You don't need to hire a professional to plan a solar photovoltaic system for your RV. Using these steps, you can plan the perfect system on your own and calculate how long it will take to pay for itself.
The Most Recommended Solar Chargers Are:

This guide is articulated in sections where each section explains a specific question.
1° Estimate the Total Power You Need
2° Calculate Your Total Power System Size and Cost
3° Get an Estimate on Energy Savings and Payback
How can I increase the autonomy power of my motor home?
In a camper electricity and water are precious. We must therefore learn to save without depriving the indispensable. If you want to convert your Camper to solar power, you'll need to increase its autonomy. Who stays a week in the same place needs to find a way to recharge the batteries, and a good solution is the solar panel. Be aware that they are expensive and fragile, just the branch of a tree to break, and is an additional weight. We also need to park in the sun, if you parked in the shade not serve. If we want to increase the autonomy of our campers we can increase the number of panels.
How to Determine an RV's Solar Power Requirements?
Get a pen and notebook. List every electrical device: each light, all chargers, TV, washer, dryer, microwave, A/C, etc. List the wattage used next to the item, and indicate whether they are AC (alternating current) or DC (direct current, as in battery powered). Make two columns if you need to. List how long each device is used and multiply the hours used by the wattage to get the daily total used. Add the total current needs in each column, and the total needed overall. Although this may seem daunting at first, it really is easy to do.
Decide if you want to run the items directly from the solar photovoltaic system or if you'll use the system to charge a battery bank first then use the power. Those appliances labeled as AC will need an inverter to accept the DC power directly from the batteries. Inverters are available for individual appliances or for entire AC systems.
What and how should I install the solar panels on my camper?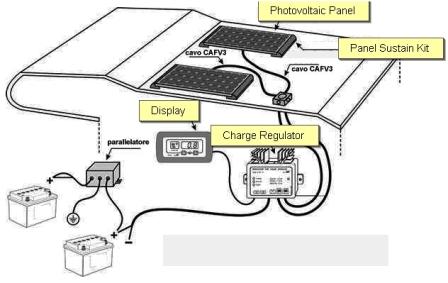 A photovoltaic system area is based on:
One or more photovoltaic panels
A charge regulator to measure voltage and current
A battery.
1 Mounting kit
1 Display light to see the different levels of solar energy
1 Parallel to keep the battery engine charged after the service battery is loaded from solar
1 Set of cables to connect the panel on the roof and maintai an excellent insulation against the infiltration of water from the roof.
What would be a good RV solar panel with good wattage?
To calculate the power and let it work nearly 100% we need to consider:
Intensity of solar radiation (sunshine). The highest value is obtained only in exceptional weather conditions and practically never in real situations.
Temperature of 25 ° C but we all know that in a day of exceptionally high sunshine for sure the temperature is above 25 ° C. Higher temperatures cause a decreasing of the performance of the panel.
Incidence of perpendicular sunlight.
Calculate Your Total Power System Size and Cost
Calculate your total RV photovoltaic power requirements by using the following information located at: http://www.energysavers.gov/pdfs/208.pdf. By using the correct incline of the rooftop panels, you can easily calculate how much energy can be collected and the correct number of panels needed for your RV.
Sound hard? Not really.
Let's say, for example you're going to stay in Arizona. What Will a 220 Watt Solar RV Kit Run? A single 200-watt solar panel could provide you with 16,000 watts of power every day (with 8 hrs sunlight). Using your wattage total for your appliances (i.e., 80,000 watts/day) you'll need a total of 5- 200 watt solar panels. The total cost for those will be $3,475.
What size solar panel is required on a Caravan or Motorhome?
Example 1: Big motorhome then big consumer
Using 2 lights, refrigerator, TV, VCR, etc.
Having 3 evenings of autonomy in summer, 2 nights in winter
Power panels: 140 watts with adjustable solution
180 watts with non-adjustable
Example 2: Average consumer
Power: 90 watts with adjustable solution
110 Watt not adjustable
Example 3: Small consumer mini camper
50 Watt power adjustable
65 Watt not adjustable
What's the right wattage for caravans to run lights, TV etc?
In choosing the type of panel you can follow the following guidelines:
80 watt panel: It 'a small plant, ideal for those who use the camper mainly in the warmer months and not use auxiliary utilities such as CTV or fans.
125 watt panel: The ideal solution for those who use the television.
140 watt panel: It represents the best solution for anyone, making use of summer vehicle, stopping long ago and wants to have a good availability of power for various accessories.
2 panel of 125 watt: The choice we recommend to all those who have a refrigerator compressor, or make an intensive use, even in winter.
Get an Estimate on Energy Savings and Payback
The economic benefits of an RV photovoltaic power system are easy to figure. Total how much in electricity costs you spend on your RV each month or as a year total. Divide that figure into the cost for your system. This is the estimate of how long it will take the system to pay for itself. Keep in mind that this is a base figure. It doesn't take into account the cost of electricity from one county or state to another. Since electricity costs are rising, you can easily estimate the payback time while you use your RV and enjoy free energy at the same time while using a notebook with "savings to date" listed.
How to install the solar panels?
The ideal would always have the sun perpendicular. This is achievable only with a rotating and tilting variable, but this is not always possible.
Based on my experience the best solar panels to use for your RV are the Sunforce 60-Watt Solar Charging Kit (More Sunforce Solar Charger Reviews here), the Go Power! 95 Watt Solar Kit (In depth review here) or the HQRP 50W Mono-crystalline Solar Panel (More HQRP solar charger reviews here)

The Most Recommended Solar Chargers Are: