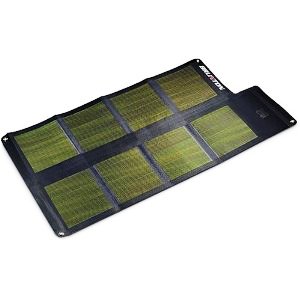 Description: The Brunton Solaris 26 Watt Foldable Solar Array represents the next generation of foldable solar arrays.  It's a very usable portable power that uses the sunlight optimizing portability. It's useful for charging car batteries, laptops, digital cameras or cell phones.
Uses: It charges/runs devices such as MP3 players, cell phones, digital cameras, PDA, battery chargers and 12V accessories. Also useful for trickle charges and to maintains car/RV/marine batteries charged.
What I Liked: It's well designed for portability and its output is good enough to charge and power all common gadgets (laptops excluded, it gives only extra time to the battery but it not fit to power it fully).
What Needs Improvement: Having a battery pack (internal battery) and a charge controller would be a great choice. The panel is good but need to be a fully portable solar power pack.
Shop for Deals on Brunton 26 Watt Foldable Solar Array

Ratings in Details
Package & Design: One of the really cool things about this is that it will fit easily in your briefcase or bag.
Installation: The panel is very easy to use and comes with multiple adapters.
Price: It has a good price considering the quality of this tool and cost savings of not having a "fried battery"
Installation: Nearly 300 dollar are a guarantee of great performances, but for me this is too much considering it need an internal battery and don't have a charge controller.
Performances: Reading around some consumers reviews, I've found most positive impressions like: Charging two Olympus BLM-1 batteries simultaneously, in a couple hours in sunny conditions and in six hours in cloudy conditions.
It wouldn't power a laptop computer. Charging a cell phone with a dead battery to full charge in less than an hour. An 12,000 mAh battery can take 10 hours to fully charge.  Charging a laptop battery with the laptop turned off (4 – 6 hours recharge time).
Here a simple table:
Portable DVD – Run/Charge 1-3 hrs
PDA / MP3 player – Run/Charge 1-2 hrs
Satellite Phone – Run/Charge 1-2 hrs
Portable Game console – Run/Charge 1-2 hrs
Digital Camcorder – Run/Charge 1-2 hrs
RV/Car/Marine battery – Charge 12 hrs
Dimensions: Overall dimensions: 21.5″x37.5″ ; Overall dimensions folded: 11″x8.5″x1″ ; Weight: 28 oz
Usability: It's simple, connect the 12 V vehicle power outlet receptacle to the Folding Solar Panel. Insert the adapter (male) included with the hand-held electronic device or battery charger into the 12 V vehicle power outlet. Place the panel in direct sunlight.
One of the drawbacks of the solar array is that it cannot store any power itself.  It can harness and use the power of the sun, but once you pack it up, nothing is saved.
It has not a charge monitoring system so you need a charge indicator like a volt meter. It has a built-in reversing diode and charge regulator that prevents the solar array from discharging your battery at night.
Made in USA?: Imported.
Accessories: To charge boat auto batteries You need to purchased the Brunton Solar Controller to utilize it (or another solar controller). To use the Solaris with a laptop you need to purchase a 12V cigarette lighter adapter. To have a portable power you need to purchase the solo power pack, an internal battery (10 times bigger than a PDA battery) to let you store the sun power.
Other models:
BR-SOLARIS 52   52-Watt Solar Panel  . . . . . . . . . .$649.00
BR-SOLARIS 12   12-Watt Solar Panel . . .  . . . . . . .$195.00
BR-SOLARIS 6     6-Watt Solar Panel . . .  . . . . . . . .$109.00
Shop for Deals on Brunton 26 Watt Foldable Solar Array
The Most Recommended Solar Chargers Are: