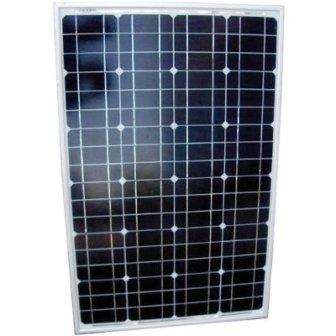 The HQRP 15 Watt Monocrystalline Flexible Solar Panel is rated for 18V maximum power, with 0.8333 Amps maximum current. This lightweight unit is highly efficient and its junction box offers silicone protection from moisture.
Often used to maintain the batteries in golf carts, RVs, and boats, the unit is ideal for both indoor and outdoor use and for use when traveling. Economically priced, the unit is also available with a free mouse pad. Reviews of this product are favorable, and many purchasers expressed surprise at the quality of the unit considering its economical price.
Shop for Deals on HQRP 50 Watt Solar Panel
Shop for Deals on HQRP 12 Watt Solar Panel

The HQRP 12W (Size of 10W) Monocrystalline Solar Panel provides a maximum 17.2 Volts and 0.7 Amps of maximum current. The aluminum frame helps make this unit lightweight while protecting the unit from damage. The junction box has silicone protection to prevent moisture from entering, and the solar cells are protected by tempered glass.
The back of the unit is fully sealed against moisture and to help prevent physical damage. Purchasers report using this very economical model to power outdoor lighting, maintain charges for lawn tractors, and power water pumps at remote cabins. They also praised the way the unit works in low light situations and the quality of the packaging provided by the manufacturer.
The HQRP 50W Mono-crystalline solar panel offers 17.6V maximum power and 2.98 Amps of short circuit current. It features an aluminum frame, which is sealed against moisture. The high quality tempered glass protects the solar cells from damage, yet the entire unit is lightweight.
The panel can be used for keeping all types of 12 Volt batteries charged and ready to go. Customers who have purchased this unit were impressed with the quality of the materials and construction, as well as the performance of the panels. They report that they work even when conditions are cloudy.
The HQRP 20W Mono-crystalline solar panel is rated at 17.2V maximum voltage and 1.3 Amps short circuit current. It has a lightweight aluminum frame, with a junction box sealed against moisture with silicone. Tempered glass protects the solar cells, while the rear of the unit is sealed completely against moisture.
The surfaces of the photovoltaic cells are enlarged to boost power output beyond the 20W rating. These units have been used to provide lighting for remote cabins and campsites, to keep RV batteries charged, and to provide lighting and small electronics charging for campers.
Purchasers are impressed with the performance received, especially at the price, as well as the care the manufacturer takes when designing the packaging to make sure the units arrive in perfect condition.

Shop for Deals on HQRP 50 Watt Solar Panel
Shop for Deals on HQRP 12 Watt Solar Panel
The Most Recommended Solar Chargers Are: