Sunforce manufactures a wide variety of solar energy equipment and accessories. Their products are among the most economical choices on the market. The combination of quality and economy make many of their solar kits ideal for novices who want to experiment with green energy before making more serious commitments.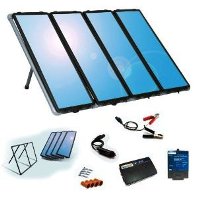 For those who are ready for a bit more power, the Sunforce 50044 60 Watt solar charging kit may be the solution. This kit is economically priced and offers up to 60 Watts of power. It is designed for use in RVs and boats as well as remote cabins, as a supplemental power source for homes, or to provide power for a campsite. The units are waterproof and are rated to survive hailstones impacting at up to 50 mph. The kit contains four panels that are intended to be mounted on the included frame. It also comes with a seven Amp controller, a 200 Watt power inverter, and wiring. Reviews are primarily positive, especially in areas of the country that receive a lot of sun. One user reports that his powers two marine batteries, two laptops, and cell phone chargers without ever running out of juice. Other users praise the ease of installation and the fact that everything except the batteries is included in the kit. (Read a more in depth review of the Sunforce 5044 60 Watt Solar Charging Kit here)

The Sunforce 50056 Solar Accessory Kit. Inexpensive in price, and handy for use, the Sunforce 50056 solar accessory kit fits the description of general-purpose solar wiring equipment. Along with dual battery clamps with twelve feet of wire, this lightweight package contains the following hand tools and connection devices: 12V DC plug, female socket connector, regulator connector including tinned wires, and an LED light-based voltage tester. The 50056 accessory kit is designed to help the novice electrician make quick and easy connections between multiple solar panels and inverters. (Read a more in depth review of the Sunforce 50056 Solar Accessory Kit here)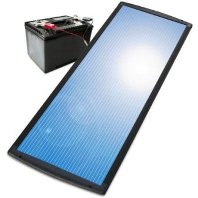 The Sunforce 50032 is a 15 Watt solar battery charger. It will help maintain a charge on any type of 12 Volt battery from automobiles to electric fences. It is easy to install, requiring only placing the panel in the sunlight and plugging into a 12 Volt cigarette lighter. Hunters have used these to power deer feeders, and homeowners use them to power pumps on water features, provide lighting and power to sheds, and charge lawn care equipment. They are also used for keeping the batteries charged on RVs, boats, and tractors. The manufacturer rates them at an effective temperature range from minus forty to 176 Fahrenheit, and suggests the use of a seven Amp controller with them. This model is highly praised by most who have purchased it, although some have mentioned that it does come with a charge controller despite information on some sites that it does not.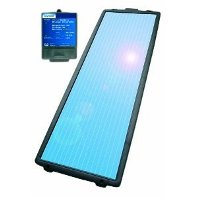 The Sunforce 50033 15-Watt Solar Charging Kit, a person will have new found love for the sun. This product only weighs two pounds and a person can use the kit to keep a charge on just about any available 12-Volt battery available. This product has a LED indicator that tells the person when it is fully charged and ready to use. (Read a more in depth review of the Sunforce 50033 15-Watt Solar Charging Kit here)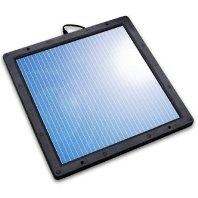 The Sunforce model 50022 is a 5 Watt solar trickle charger. It can be connected through a cigarette lighter or with alligator clips directly to the battery. It is often used for cars, personal watercraft, and boats. This model is a trickle charger, meaning that it supplies a limited amount of energy, designed to replenish drain on a battery rather than recharge one. The unit is weatherproof and features discharge and overcharge protections. Users report it has plenty of power to keep car batteries from being drained while recharging small motors or electronics. Like all solar panels, output is limited on cloudy days. Purchasers are mainly positive in their reviews, and many have made comments that the unit exceeds its rating. For example, one user reports that he uses it to power his television, laptop, and light while camping. The main complaint lodged was that the units were received broken, with cracked glass or broken connectors.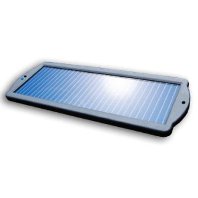 The Sunforce model 50012 is a 1.8 Watt solar battery maintainer. It is connected through a cigarette lighter or directly to the battery with alligator clips. Uses include RVs, boat batteries, ATVs, and many others. It is designed to prevent the drain of a battery when it is left idle for a period of time. Many users report it is ideal for RVs, boats, and other vehicles that are not started for weeks or even months. It can also be used to prevent battery drain while charging cell phones or other small items. The unit is intended for use in a vehicle's interior and is not waterproof. It is not meant to restore a battery that has been completely drained. Protection against overcharging and discharging overnight is included. Users report that it is effective even when the skies are overcast but needs full sun for maximum effectiveness. Purchasers have been overwhelmingly positive in their reviews. Negative comments have included damaged products and poor customer service. There have also been a few negative reviews from those whose expectations were not in line with the product description; it is unlikely to restore a dead battery to life and it is not intended to be exposed to the elements.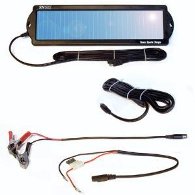 Whether you've stored your motorcycle or lawn mower all winter or put your snowmobile away for the summer, you'll want to make sure that your joy ride will be ready when you are. The Sunforce 50013 Solar Powered 12V Sports Charger was created to keep batteries on motorcycles, ATV's, lawnmowers, personal water craft, and snow mobiles charged and ready for use. (Read a more in depth review of the Sunforce 50013 1 Watt Motorcycle & Powersports Solar Battery Charger here)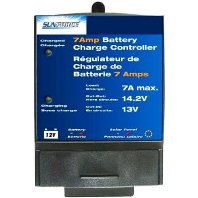 The Sunforce 7 Amp Charge Controller is designed for solar panels that are used to charge 12-volt batteries. When used in conjunction with 12-volt solar panels, the charge controller prevents the batteries from overcharging. It is rated at up to 7 amps of array current and solar electricity of up to 100 watts. The device features two LED light indicators: one to indicate a currently charged battery and one to indicate a fully charged battery. The unit measures 2.5 inches wide x 4 inches high x 1 inch deep and weighs only 1 pound. (Read a more in depth review of the Sunforce 7 Amp Charge Controller here)
The Most Recommended Solar Chargers Are: