Overall Rating: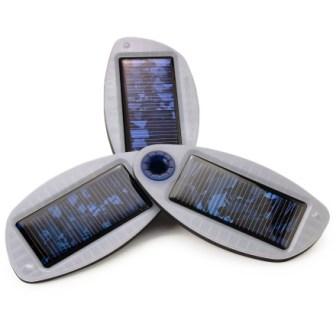 Description: The Solio solar charger is a tool powerful enough to charge all of your gadgets. It takes nearly 10 hours of direct sunlight to fully charge its internal battery. You can use the internal battery to charge your devices.
On This Page
Uses: Charging cell phone, iPod, MP3 player, PDA, game player, GPS or digital camera.
What I Liked: The design is cool. It could be used as charger or directly as power source.
What Needs Improvement: Maybe performances could be improved. In respect to the other solar chargers it takes more time of direct sunlight to fully charge its internal battery.
Where to Buy & Coupons: Amazon
Ratings in Details
It has a simple design with a fan-blade outlay.
If you focus only on the great design, nearly 100 Dollars is a good price.
The internal battery can be charged from the wall or the sun. It has a plu 'n play system to connect it to all USB devices. You get adapters for most Motorola, Nokia, and Samsung phones (Sony Ericssons aren't supported yet).
As stated above, the manufacturer claim to take 10 hours of sunlight to fuilly charge the solio. Cosider that most of it depends on the intensity of sunlight and the right positioning. An average time of 45 minutes of Sun can give enough power to make nearly a 20-minute cell phone call. Takes about 5-7 hours of direct sunlight to keep the iPod topped up.
Really compact 4.7 inches by 2.5 inches by 1.4 inches; 5.8 ounces.
The Solio can charge your electronics directly rather than relying on the built-in battery.

Made in USA?: Imported.
Share Your Thoughts: If you've bought the Solio Solar Battery Charger, tell us what you think.
Note: Comments in the resources section may occasionally be pruned.
The Most Recommended Solar Chargers Are: