Overall Rating: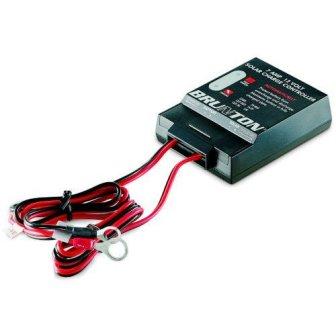 Description: The Brunton Solar Controller 12v Battery Charging Monitor is an helpful tool to help you avoid overcharging your 12-volt batteries. The manufacturer says that once connected you can charge your 12v battery nonstop for days. The controller will cut off the power when charging is complete.  It's also good for maintaining the battery in its fully charged state (i.e. RV parked for days or boats). It's compatible with most of the solar panels (of different brands too) available.
On This Page
Uses: Useful for RV, Boats and all batteries that need to stay well charged for long periods of disuse
What I Liked: It's a normal controller…not so much to say. Brunton is a good brand. The led indicator are helpful to know when the battery is full.
What Needs Improvement: The controller is nearly perfect…great job!
Where to Buy & Coupons: Amazon
Ratings in Details
Not so impressive but compact and useful
The controller is easy to install and provides an indication of "charging" or "charged".
Nearly 30 dollar is a good price considering the quality of this tool and cost savings of not having a "fried battery"
It measures 3.8 x 1 x 2.7 inches; weighs 4.2 ounces.
Before you attach it to the battery both the CHARGING and BATTERY FULL light will be on. Once you hook it up to the battery it works well. It looks very standard in its construction. Versatile for every solar panels.
Share Your Thoughts: If you've bought the Brunton Solar Controller, tell us what you think.
Note: Comments in the resources section may occasionally be pruned.
The Most Recommended Solar Chargers Are: