Overall Rating: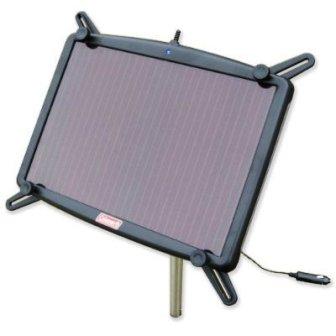 Description: This solar charger is designed to protect against natural battery discharge and electronic drain in RVs, boats, trucks, or mobile homes.
On This Page
What I Liked: For its wattage the panel works good for maintaining deep cycle batteries full charged.
What Needs Improvement: Surely the global wattage output. The panel is not good for charging flat batteries or using it to power devices.
Where to Buy & Coupons: Amazon
Ratings in Details
It's a thin panel that looks like a little black board
Illuminated LEDs lets you know the panel is charging. In the package are included mounting screws. The charger is plug-in-play compatible for quick connections, and a cigarette lighter adapter and a battery clamp are also included with the panel.
I looked around and this is a very good price for a solar charger of this wattage.
As battery charge maintainer it works well. Battery looks to stay charged much longer with this attached. It produces small current in full sunlight that it can only maintain the existing charge of a battery.
Usability:

The ad copy clearly states "Water resistant" but the instructions state that it is not suitable for outdoor use.
Made in USA?: Imported.
Accessories: Brunton Solar Controller 12-Volt Battery Charge Monitor
Share Your Thoughts: If you've bought the Coleman 4.5 Watt Battery Charger, tell us what you think.
Note: Comments in the resources section may occasionally be pruned.
The Most Recommended Solar Chargers Are: